So a few years back I had DK remake my engagement ring after it was damaged by a the store it was purchased from. I adore that ring. Fast forward about 5 years, I got to wear that ring about a year before my now ex-husband imploded our marriage with his affair and pathological lying. Turns out I married a narcissist. *facepalm* . So my poor ring that had so much effort and love put into fixing, has been sitting in a box in my safe being neglected. Enter my new beauty.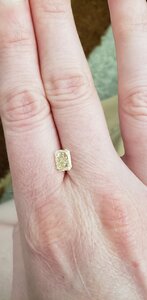 I have been looking for a while, for a stone I could have reset into my ring so I can get her out in the open to enjoy again, and this little thing just had me memorized when I saw it.
It's obviously a radiant. 1.05 caret, w-x, vvs2. Ex polish, very good symmetry and faint fluorescence.
It does have an EKT girdle, which I know is not ideal because it holds weight there, but I needed something to fit in the dimensions of my existing ring and this width wise is perfect!
After I enjoy it for a day or two, my ring and stone will make the journey to DK to be re-set.
I had been thinking maybe it would be good to add a cup under to make it look more fancy in color, but, seeing it in person, I may just leave it as it.
Anyway, I just needed to share my joy at the prospect of my much loved ring being brought back to life!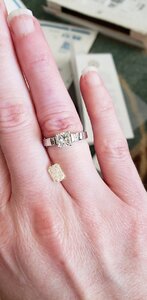 Last edited: