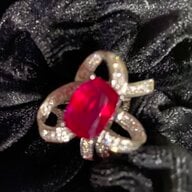 Joined

Apr 3, 2019
Messages

314
I think while these are both perfectly fine crystals, you may find them to be too dark/orangey/garnet-like in person (as our dear

@Crimson

pointed out). Truthfully, the windowing bothers me more than anything. But certain collectors are more sensitive to that than others. I look forward to seeing what Inken comes up with!

P.S. I, too, am a big fan of The Rare Gemstone Company (Antony)!!
Yes,
@Autumn in New England
Antony is so knowledgeabl, professional and understanding. I am a fan of The Rare Gemstone Company too! Cannot wait for my new stone to arrive.
Star Lanka is a reliable source for quality gemstones in Thailand. We offer Mozambique Ruby and Paraiba Tourmaline at the best prices since 1985.

Suhail is wonderful. I've only bought rubellites from them, not rubies but you could try to contact them. They have some terrible pictures on their website though so just message him and tell him what you're looking for (eg no pink, no brown etc).

I bought a heart rubellite from them that I would not have touched had I only gone off the website pictures! I didn't even request pictures because it looked terrible on the website but when they went to retrieve the actual stone and take video footage of it, it was gorgeous.
Yes,
@mellowyellowgirl
that heart rubellite ring is big and beautiful! Suhail is so nice, and their customer chat line is always availabLe.