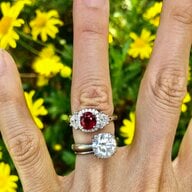 Joined

Sep 16, 2019
Messages

90
Woo hoo she's finally here! Say hello to Nandar (Burmese for "to rejoice"), my custom, hand-forged three-stone ring from Maytal Hannah. The highlight of the ring is a 1.41 ct cushion cut, certified unheated Classic Mogok Burma ruby, which I purchased in 2007 from Robert Genis of National Gemstone. Unheated old Burma rubies are terribly hard to come by now, so I am really happy I acquired it when I did. The ruby is a saturated, vivid stoplight red and is truly impressive, particularly in low light conditions. It's hard to believe this gem was stashed in my safe deposit box for 13 years! The ruby is encircled by a delicate diamond halo (.18 CTW F/G, VS)and flanked by two F/G VS half-moon diamonds (.60 CTW). The ring is made of platinum.
I had commissioned this jewel to wear on my right hand for my August 15, 2020 Carmel Valley wedding. Sadly, we had to cancel the wedding due to COVID spikes and real concern for the safety of our family and friends. Not sure when we will reschedule the nuptials but at least I have this gorgeous jewel to enjoy for now.
I have to say that Maytal Hannah was an absolute delight to work with. She responded to my first inquiry within a couple of hours and was extremely attentive and communicative from concept through execution. Her level of service is outstanding. She understood my vision for a classic, elegant "heirloom" three-stone ring and made suggestions that refined my ideas into the final design. With her guidance, I decided to swap pear shaped diamonds for half-moons instead. She also suggested the delicate micropave diamond halo to make the ruby really pop. I never felt that she was pushing her vision onto me, but I very much appreciated her design opinions and options at every step. We had a small hiccup during the forging of the ring, but Maytal immediately made it right and had the entire ring remade which speaks volumes about her integrity. The level of finish on the ring (even under magnification) is extremely high. I enthusiastically recommend Maytal for hand-forged jewelry.
Here are the ruby's stats:
Size: 1.412
Cert: AGL - June 09, 2006
Type: "Classic" Burma
Shape: Cushion
MM: 6.35 x 5.59 x 4.56
Color/Tone: 2.5/75
Color Rating/Tone: 2-3/75-80
Color Scan: Red 70, Pink/Purple 15, Orange 15
Clarity: MI1-MI2
Proportions: Very Good-Good (3-4)
Depth: 81.6%
Average Brilliancy: 70-80%
Finish: Very Good-Good (3-4)
TQIR: Excellent to Very Good (2.5)
Heat Enhancement: None
Maytal's video of Nandar:
The original thread where I asked for help choosing stones for this ring is here:
https://www.pricescope.com/communit...elp-me-choose-side-stones-from-photos.258196/
AND FINALLY HERE ARE THE PICS!!!!
1) Maytal's final concept sketch and Nandar
2) Closeup of Nandar in diffused (cloudy) indoor light
3) Nandar in outdoor full sun
4) Nandar by bedlamp
5) Nandar with my 3.25 ct ruby and diamond eternity band in diffused (cloudy) indoor light. What do you think of this stack- is it ruby/diamond overkill?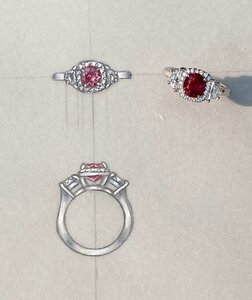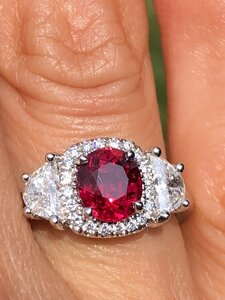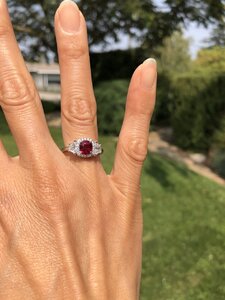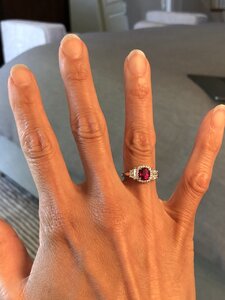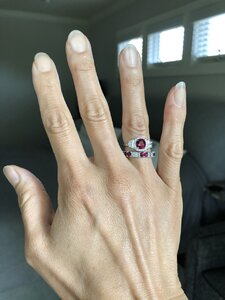 Last edited: