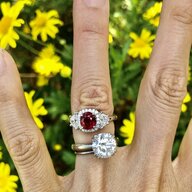 Joined

Sep 16, 2019
Messages

54
Hi everyone, I have definitely had an unusual flurry of jewelry projects this year, which have been driven by my upcoming nuptials. I have another jewelry piece to share; this time I'm working with the highly recommended Maytal Hannah on a three-stone ring for my right hand and could really use Pricescoper feedback on the side stones.
I decided to set my 1.41 ct cushion cut, certified unheated Mogok Burma ruby that I was lucky to acquire in 2007 through Robert Genis of National Gemstone. It is an ideal 70% red, 75 tone, has high brilliance, and does not black out in any lighting conditions. It is a wonderful, saturated stoplight red.
Here are the ruby's stats:
Size:
1.412
Cert:
AGL - June 09, 2006
Type:
"Classic" Burma
Shape:
Cushion
MM:
6.35 x 5.59 x 4.56
Color/Tone:
2.5/75
Color Rating/Tone:
2-3/75-80
Color Scan:
Red 70, Pink/Purple 15, Orange 15
Clarity:
MI1-MI2
Proportions:
Very Good-Good (3-4)
Depth:
81.6%
Average Brilliancy:
70-80%
Finish:
Very Good-Good (3-4)
TQIR:
Excellent to Very Good (2.5)
Heat Enhancement:
None
Unfortunately, the ruby is cut quite deep which is typical for Mogok/"Classic" rubies, so face-up it appears like a 1.2 ct size at best. Because the ruby does not appear that big, I felt it would be too dainty to wear as a solitaire. During my initial conversations with Maytal, we agreed a three-stone ring with two diamond side stones would provide good finger coverage. Originally I was leaning towards a classic three stone platinum ring with the ruby having 18kt yellow gold prongs and flanked by two pear shaped diamonds. After Maytal received my ruby, she said she felt like a delicate diamond halo around the ruby would really highlight the ruby nicely. My two major requirements for this project is that I want the ruby to be the clear center of attention and that I want the ring to be timeless and classic (and not too vintage). This is an heirloom piece I will pass down to the next generation. Maytal then provided me two quick sketches (first pic below) showing one version with pear side stones (halo also around each of the pears) and another version with half moon diamond side stones (with no halo around the half moons). I decided I prefer the second version with the non-halo half moon side stones. It felt cleaner and less "vintage' to me.
I just got photos back from Maytal showing three sets of half moons diamonds. The photos show my actual ruby with a paper cut out framing it and acting as the diamond halo and the actual side stones I'll be choosing from. Though the three sets are all half moons, they have a different look. I think I am leaning towards Pair #1, which features the most compact pair of half moons; I feel this half moon shape echoes the shape of my cushion ruby. The half moons look like ovals that are sitting up in a N-S orientation, similar to the ruby. But is this pair fine in size? I also like Pair #2 which has elongated, tapered ends which has a nice, graceful feel too, but is this pair too big? Pair #3 is probably my least favorite because I'm thinking the half moons feel like ovals that fell over on their sides if that makes sense.
So my questions are:
1) Which set of half moons do you like best and why?
2) Should I still have the claw prongs holding the ruby done in 18kt yellow gold while the rest of the ring is platinum? Or go platinum for the whole ring, which is Maytal's recommendation?
3) Any recommendations for the side view of this ring? Since it's completely custom I could do anything. Hidden diamond halo on the sides of the ruby basket? Or is this unnecessary and fussy?
Thanks so much for your feedback in advance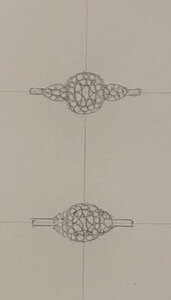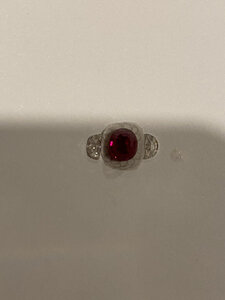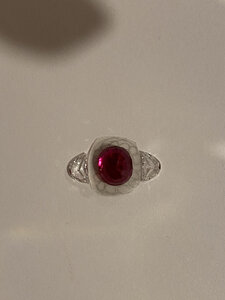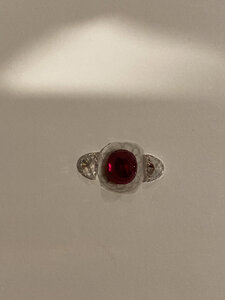 Last edited: