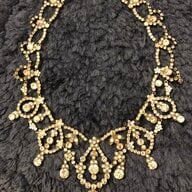 Joined

Jun 6, 2008
Messages

1,351
Prince, remember when you posted pictures of your tiaras? There was one that you said you made yourself? It got me wondering...could I somehow make a tiara? I started looking online, studying, and practicing. It's taken a few months, but here's the first one I feel that is postable.
Things I have learned:
1. My eyesight isn't what it used to be for fine detail work.
2. Good tools are critical.
3. Take a break or the upper back will hurt and fingers will cramp up.
4. The tiara frame feels light at first before you add stones.
5. It is way harder than I thought it would be.