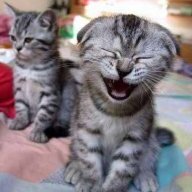 Joined

Apr 28, 2003
Messages

287
okay sorry if this is a stupid question and it''s been answered a millions times before and i''m just blind that i didn''t see the answer somewhere on some FAQ but...what was i saying now?


oh yeah, i was just curious...what make some people "rough rock"s and some "cut rock"s. at first i thought it was the people in the biz that were the "cut rock"s but then i found some of them were not. they were just people who started out like me looking for a diamond and finally learned enough that they think they can help others. i also found that some people that sound like they''re in the biz are likewise "rough rock"s. there went that theory.
then i thought maybe it was the amount of posts. after all the more you can contribute, the better, right? but then i discovered that some "cut rocks" had less than 100 posts while some "rough rocks" had 200+!

now i know this has nothing else to do with anything except to satisfy my silly curiousity but i just thought i would ask...especially since i noticed that leonid was logged on.
sorry if this was a worthless question. just wondering since i couldn''t figure out a pattern here...and you know some of us geeks...like every angle on the sarin report, we just gotta know everything!

thanks for your time!