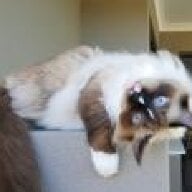 Joined

Nov 8, 2013
Messages

644
Hi All,
I wanted to share with you 2 much loved diamond rings that I have recently had remodelled and I am absolutely thrilled with the results.
My first ring is a 1ctw 5 stone from
Whiteflash
that I've had for a few years. I was finding that I was wearing it less and less as the setting just didn't suit my lifestyle. I kept catching it and bumping it on things and whilst I loved it, it really was a lovely setting, it just wasn't me. I needed something a little more low key and low set! So I had my 5 little
aca
's bead set into a fairly plain 18ct rose gold ring (with a touch of milgrain) and I just love it! I've worn it everyday since as it's so, so comfortable. The
aca
's still sparkle like mad and look just as beautiful as they did before (to me anyway).
My 2nd remodel is my AVC from my e'ring. My hubby and I are no longer together, we're best friends and always will be, and I still wanted to be able to wear my avc so I did a remodel. I wanted a ring that was understated, classic and low maintenance. I decided on 18ct, rose gold satin finish gypsy style setting. My avc is a .88ct N with sb fluorescence and I did wonder if it would throw more yellow being set in rose gold. I would have to say that yes, it probably does look a little creamier in colour compared to the old 18ct white gold setting, but all in all, it still looks pretty white to me, though I'm not colour sensitive at all.
I realise that my new rings won't appeal to everyone, but I love them! To me they are comfortable, understated and perfect for my lifestyle. Okay, on to the photos.....
Old setting for 5 stone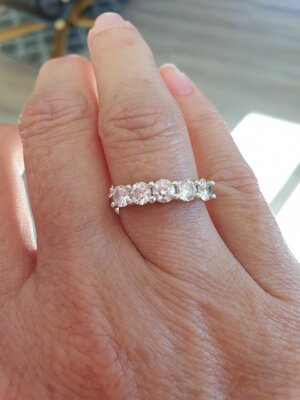 New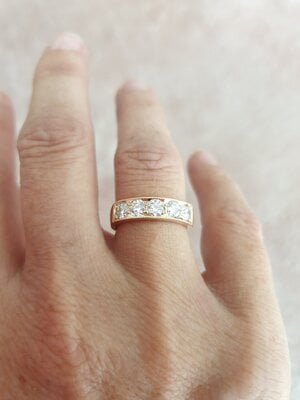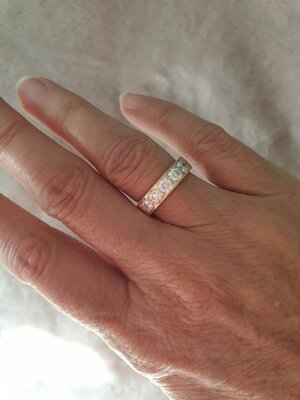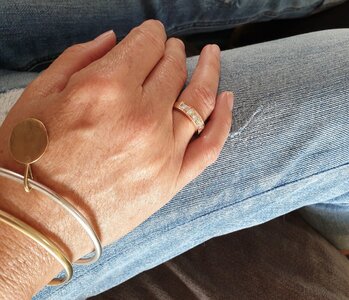 Okay I think these photos may be massive - sorry about that!
And my AVC in it's old setting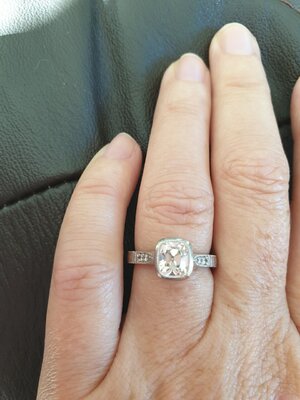 And new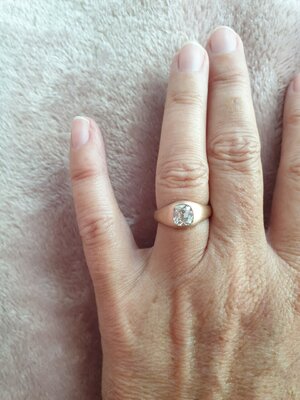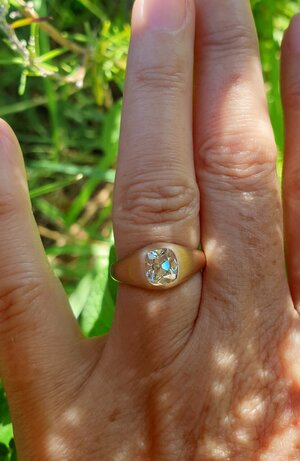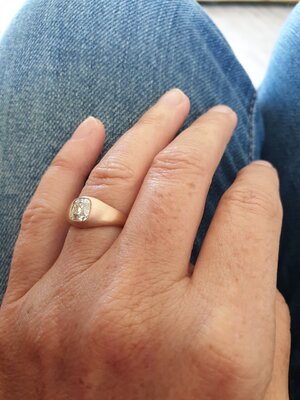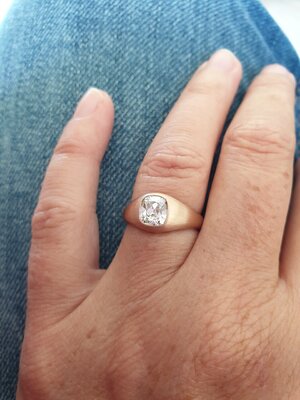 Thanks for letting me share!