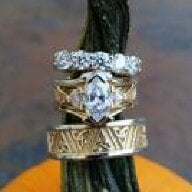 Joined

Feb 6, 2009
Messages

2,181
A couple of years ago my grandmother gave me her engagement and wedding band set. Considering my wedding is coming up in Oct, I really wanted to wear her ring on my right hand. Taking it to a few jewelers, it was come to the the conclusion that the setting could not be fixed, that it would be better to have the diamond reset.
When I went to have it set, the jeweler told me the ring was well over 100 years old, much older than the proposed 55+ years that my grandmother had worn it, and that it was a rose cut.
I can''t seem to find too much info on rose cut stones. Is this a different name for another antique cut?
Can anyone share some info or lead me in the right direction?
Thanks!!!