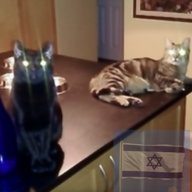 Joined

Jun 8, 2008
Messages

26,571
I'm so sorry you're going through all of this

@missy

. I've just started reading your thread but don't have much to contribute. Please don't feel guilty, you're doing everything you can and more. Those cats are lucky to have you and Greg.

I worked in a vet clinic in my early 20's until I developed severe asthma. I absolutely loved it however sometimes it was very heartbreaking. I would cry along with the owners.

Please don't forget to take care of yourself as well.
Thank you
@Weecam
, that is very kind of you. Life is heartbreaking for sure and with animals especially so because their life span is so much shorter than humans. Crying is something I do often these days. Much more often than ever before. But I do not get any sweet release with my tears because there is no end in sight. Thank you for your compassion. And I am sorry your asthma became so severe and prevented you from continuing your good work with the animals. Hope you are feeling well now.