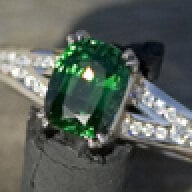 Joined

Aug 3, 2006
Messages

9,613
Cleaning:
Baby toothbrush, dish soap and warm water. If the setting is NOT white gold, then you can put it in a little pot of warm water, ammonia based jewellery cleaner and a bit of dish soap over night. Just rinse it well the next morning.
If your setting does NOT have pave and Wink or Richard say that the feather will be fine, then you can buy an ultrasonic - they are not suitable for all gemstones before you get one and plonk everything in it!
I use mine once a week or so with warm water and a bit of windex or similar.
General stuff:


Take your ring off when you are doing dangerous things - cooking, housework, gardening, rock climbing, showering, sleeping etc and please don''t put hand lotion on without taking the ring off first!

All rings and stones need to be looked after (including diamonds) but coloured stones often need a bit more TLC to keep them looking good for years to come.
Many of us here with coloured e-rings don''t wear them at all unless we are out or have people over.