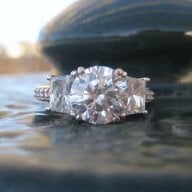 Joined

Feb 8, 2009
Messages

169
HI! I am new here. I have really enjoyed seeing everyones beautiful rings!! You all know so much. So in Dec. I had to make an ins. cliam on my e-ring. I had a 2ct. rr center in an ajaffe setting that had round and baggette diamonds in the band. Now, I am on my 3rd ring to try and find a replacement. They keep on changing the center b/c I have just not been happy with it. Now I got one today and the center is wonderful. I am still unsure on the setting. To be honest, I really don''t know what I want. What has made things harder with it is that DH is deployed and he is really good with helping me on things like this...plus my jeweler is on the other side of the country b/c he is located in my hometown.(so its not easy to do things) So I guess I am asking for y''alls opinion! Honest please! How does it look? Is the band too thin? I want something timeless, classic and something that wont go out of style. If I send this one back I will just wait on anything else until DH comes home. Thanks in advance for the help! I just LOVE this site!!!
Stats..
2.5ct. rr center(looks like 2.75) g color (great fire!)
2x .65ct traps on sides
entire setting was made by jeweler..(not special for me..it was just something that he had when i was there)
I hope the pics are okay...