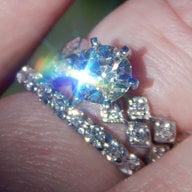 Joined

Dec 29, 2016
Messages

79
Would love some feedback before I proceed any further with this long, slow project.
I have two old-cut stones right now -- they are really well matched in color (very slightly warm, no weird tint to either):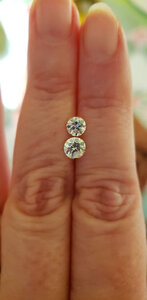 But I think you can see the problem: the larger one (0.61 carat) has a bite taken out of it.
The bite runs under the stone into the pavilion:

and does reflect a bit on the other side of the stone when in face-up view, even though the other side of the pavilion is clean: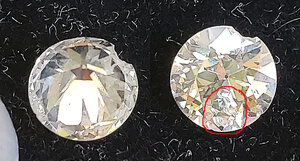 Yes, it could be covered by a prong -- but when I first got the ring with the stone in it (chip covered by a prong), I saw a phenomenon across the table that looked like oil ripples. When I took the stone out of the setting, this phenomenon disappeared. This makes me think that the prong was putting stress on the bite which was stressing the stone as a whole?
So this is my dilemma:
1) rehab the stone (expensive, loss of weight)?
2) use it anyway and hope the stone doesn't break when it's re-set?
3) scrap it entirely or use it in something less important like a single stud?
Thanks, all!