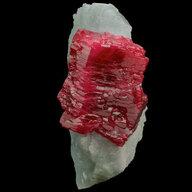 Joined

Dec 25, 2018
Messages

193
Good evening all!
In my search for ruby I have, thanks to the awesome advice received from this community, been shown some red spinels as cheaper and possibly better alternatives. I've read a bit about it but know very little about the spinel trade.
There was a threat on red spinel pricing dating back 2012 but the prices I see online today are way higher than those suggested then and there.
So I thought to create a new one, hopefully more relevant for the gem collector of 2019.
I saw a few that really struck me, here they are:
- 3.05 carats from National Gemstones. Top color incl. full AGL report:
http://www.preciousgemstones.com/305buspfs.html
- 3.44 ct. also from National Gemstones. Similar color (a bit less red but better clarity) and AGL report:
http://www.preciousgemstones.com/344buspfs.html
- 1.59 ct. from FineWater Gems. I saw more pictures + video from Gary and it looks incredible:
https://www.finewatergems.com/store/p287/1.59_ct_Burmese_Red_Spinel.html
They are all superb and in the 3-5k per ct. price range. Surely there is cheaper stuff out there but of lower quality I presume. Is this the new standard for fine red Spinel? Vlad from Ivy New York has a few but the similarly or higher priced ones look pink to me
Looking forward to hear your thoughts and experiences!
Best,
VRed