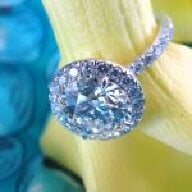 Joined

Jan 30, 2010
Messages

1,807
I am currently looking into a forever and ever setting (
) for my new 1.7 RB
http://www.goodoldgold.com/diamond/8071/
I quite fancy some more finger real estate and have been looking at halo's and three stones. Nothing so far has caught my eye, plus it has to go alongside my (overly large but lovin it) eternity. See avatar. <<<<<<<--------------------------
Anyway, I was browsing the wonderful Mr Mege website and came across the R841. Now I doubt I would ever have the funds to work with Mr M, but I was just wondering, have you ever seen anything with a RB and traps? I think I prefer step cut traps to brilliants, but I am only just starting to formulate a ring in my head.
So thoughts please and examples would be even better. Oh and don't hold back if you think it would be awful (

)with my current set up, I am just thinking out loud.
I would love to hear any alternatives you might think would be better. I am really looking for direction.
Thank you!!!!!!