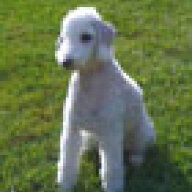 Joined

Dec 16, 2009
Messages

26
I don't post much, but love looking at everyone's rings! I have especially loved lurking and learning about Leon Mege. I had known for a while (before getting engaged) that I wanted Leon to set my stone and am so happy that we finally did it. When my husband and I were engaged he proposed with the stone in a setting he considered more temporary until we could meet with Leon in person. So I lived with that temporary setting for about a year and a half and after all of the wedding madness ended, we made an appointment to meet with Leon.
He was so great to work with, but I must admit I was a bit nervous going into the meeting because of some of the things I've read on pricescope! He sat with us for about an hour and a half and went over a ton of different options sketching them all out and calling in different pairs of side stones. When we went in, I thought I wanted to go with tapered baguettes on the sides, but there were a pair of Cadillac Cut stones that he had in stock and I kept going back to them because I really liked the way they looked with my radiant stone. He agreed and then we got to designing how it would look - it's set in his standard 3 stone setting. Waiting those 6 weeks (it took longer because he had it over their holiday break) was so excruciating, but now that I have it I am over the moon with how it turned out and with what I great experience I had working with him! I would recommend him to anyone and don't think I will ever get a ring set by anyone else.
Center Stone: 2.05 Carat Radiant, F, VVS1/S2
Cadillac sidestones: .41 tcw, F/G
And here are some photos...