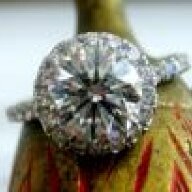 Joined

Apr 23, 2011
Messages

16
Hi Everyone!
I finally received news for my Harry Winston Pave RB Halo from Leon Mege, Facets Collection, Steve Kirsch, ERD, JBEG, and Lauren B. I also finally I picked my stone (1.4 E SI1 Triple Exc). See my previous post selecting diamond and deciding which jeweler - some ladies posted gorgeous pictures of halos and pave work by Leon, Steve, Maytal Hannah. Some pricescopers mentioned other jewelry talent includes: Sareen Jewelry,
Victor Canera
...I am not familiar with those yet.
I've been doing pricescope research and studying jewelers for more than 6 months, so I became very picky when I saw the level of perfection pricescopers have in achieving their amazing amazing rings.
https://www.pricescope.com/communit...cro-pave-e-ring.159896/#post-2907581#p2907581
Now for my quotes I described the following HW inspired pave round HALO ring:
I wanted the melee (pave stones) on the halo to be slightly smaller than the shank so as not to overwhelm my 1.41 carat stone!
I battled long about cutdown or vcut pave, but ultimately decided cutdown looks much better and the additional metal seen (potentially) is minimal. V-cut in some cases reminds me too much of fishtail, which I don't enjoy.
My specific preference is also that the stone sit FLUSH with halo - almost water tight, and to cover the mental on the inside of the halo so the metal is minimized.
Ring Specifications
Pave type: Cutdown pave
Melee size (approx): 1.25 pointers for shank, 1.15 pointers for halo
Melee quality: D color, VVS, Ideal Cuts
Shank: 1.8 mm width, pave 3/4 around, (4 o'clock and 8 o'clock)
Halo: 1.5 mm width
Halo Pave: melee stones should facing be 30 degrees away from center stone to
Stems: paved and curved up and out towards girdle of stone (from shank), like a martini glass
Donut: none (would like the stems from the halo to the bottom of the basket to come to a single point that connects to the shank, like a the top of a martini glass!)
Halo A jour (bottom of halo is open to see the culets of the melee pave)
Back to quotes: I spoke to Leon, Steve, Facets (best friends jeweler), Lauren B, on the phone after receiving quotes
Leon Mege quote: considered the master of pave, Leon's quote for the Adrianna was priced like a master. Not all the melee was included in the quote and wait time was 6+ weeks. Spoke to Leon on the phone - he was super nice and I really enjoyed speaking with him. Didn't come across as anything other than a great guy who gave me the time of day after he sent me the quote. Even explained some questions about including a "surprise hidden stone" in the adrianna. .
Steve Kirsch quote: *my expectation* was his quote would come in slightly below Leons (based on some other pricescopers comments) but his quote was shockingly
identical
as Leons!! To the nearest $100. Spoke with Steve on the phone, he was nice, down to earth, and wouldn't give me a price even though I had all the specs worked out down to the approximate total melee he would have to use - he said he'll email me back which took a few hours. Very flexible and open to me coming in for appointment same day as we spoke, given I'm in NYC. The quote, compared to Leon is indexed 100% of price.
Facets Collection (PJ Ralph jeweler, by appt only): Recommendation from my best friend (and her gorgeous vintage-styled 2 carat D colored princess E Ring and eternity ring with surprise stone on inside was done by PJ Ralph, and she makes custom jewelry there often and had her cousin's ring made by Facets Collection as well, so its a personal recommendation) I was initially hesitant because Facets Collection website shows CAD like jewelry with high quality melee, but not the delicate custom work I was looking for. What I learned after quoting for my custom request is they don't display the custom work that they do, which is 80% of their business! They do mostly custom work, as I saw and heard from my best friends gorgeous E ring. Their quote was 25% less, and after I mentioned I wanted D VVS melee (normal melee they use is is F-G VS pave stones), they didn't charge me extra. I've made an appointment to meet with them next Monday! I also asked them to show me some pave work and requested to meet directly with the jeweler handcrafting my work(THE person handcarving my precious ring and creating the perfect curve in my stems, not to mention ideal proportions of the halo and impeccable pave shank work)
My appointment is next week, and if I told them that i'm expecting to see the quality and craftsmanship of world class quality, and explained I am comparing them to Leon and Steve (both of whose work they have seen, as any jeweler should). If not, then my next appointments are with Steve and Leon!!! (Can you imagine if they show me some incredible handwork AND I pay 25% less?!?!


I'd be the happiest girl on earth.
Wish me luck........ CAN'T WAIT.