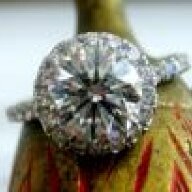 Joined

Apr 23, 2011
Messages

16
Hi Everyone -

I have been reading the amazing Pricescope about diamonds and then months about Harry Winston Halo Micropave Engagement Rings - which I have settled on getting a custom made ring. (Cast just looks like there too much metal) Ideally, I love Leon Mege's work, and am currently in the process of receiving quotes from him and have also received quotes in the past, I did see a very nice ring on JBEG, Steve Kirsch and ERD and am currently in the process of comparing price points. I've also been referred by my best friend to a jeweler who works for Facets Collection - has anyone worked with them before? Her ERing is custom made by this jeweler and its gorgeous.

I am in love with Leon Mege's Adrianna and Harry Winston - some of the cushion/round cuts that have been posted are AMAZING. So I was hoping all of you wise and knowledgeable price scopers can help guide me.I myself will be getting an RB.

Also, my boyfriend and I have been eyeing 2 stones from a Jeweler we know, both are almost the same price. Any thoughts?

1) GIA Round Brilliant Stone 1
Carat: 1.35
Color: G
Clarity: VS2
Cut: VG, VG, Excellent Table: 57 Pavilion: 61
Flor: Slight
H&A - Stone Looks Stunning

1) GIA RB Stone 2
Carat: 1.41
Color: E
Clarity: S1
Cut: Ex, Ex, Ex Table: 58 Pavilion: 62 (7.15 x 7.18x4.44)
Fl: None
Amazing sparkle, H&A not as visible

In your opinion? Who has the best quality of Pave? Steve Kirsch or Leon Mege? Who does best Harry Winston-like halos?

Next question after I get my quotes back from Leon Mege, JBEG, Lauren B, Facets, ERD, Steve Kirsch, I'll share price points. Until then, I'm back to picking my stone and look forward to all your suggestions!