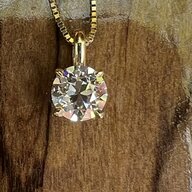 Joined

Feb 13, 2017
Messages

176
Hi, looking/hoping for some clarification.
Is there a difference between type 2 and type 2a MMDs?
My first MMD purchase is an HPHT stone that is listed on the IGI cert as 'Type 2'.
The second and third MMD purchases, which have yet to arrive, are CVD and listed 'Type 2a' on the IGI cert. Is there even a type 2? Or is this some anomaly on the certs?
The HPHT stone is has no indication of post growth treatment, according to the cert.

All are graded F color, and I see no mention of colored nuances or undertones on the grading carts, although I'm not sure they would note them.

What's that about?