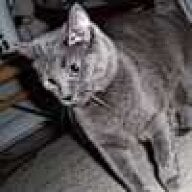 Joined

Jan 17, 2007
Messages

1,154
Take me off the list, gals -- he proposed last night! After I made dinner, I was watching baseball while he did the dishes. My kitty (see avatar) came and hopped up on the couch with me. I didn''t even look at her -- there were 2 men on with 2 outs and Pat Burrell (who strands all to many baserunners) was up. The Phils hadn''t won a game yet. I was finally focused on somethiing other than where the ring was and when I''d get it. Anyway, so he comes in and sits next to me, and asks kitty if she has something to show me. I noticed she was wearing her collar (she never does in my apartment -- she is a genius at taking it off). Then I noticed the ring on her collar. I started crying. He started crying. He asked. I said yes. Kitty ran off -- and we had to chase her down to get the ring off her collar, at which point he actually did the whole down-on-one knee thing. It was very sweet, and I was very surprised. Everyone is thrilled (no one more than the two of us, although my grandma got pretty sniffly and his sister said she cried during Good Friday service after she found out). Now the waiting turns to the wedding! We have been telling people Fall 2008 -- probably October.
Thank you for all your support, and hang in there, ladies!! You are truly a wonderful bunch, and all deserve the best from the men in your life -- and I don''t just mean the rocks!
I will post pics as soon as I get them "optimized" -- whatever that means!