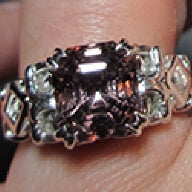 Joined

May 1, 2011
Messages

248
My spinel for my ering project arrived yesterday. It is more beautiful in color and saturation than I had expected from the pictures. It's an ebay stone. Just under 7 carats @ $199.00 it is impressive (to me.) A lovely rosey lilac.

BUT
- There are visible inclusions on the end of one side and along the very outside wall of the back. It was said to be a VS, but I'm thinking it's not. Anyway, I just sent it off to Jerry of Gemart Services to make sure that he can recut it without an issue to an 9 X 8
very slightly
elongated asscher. (His estimated dimensions)
I did write to the vendor because there is a 7 day money back return policy and there is a chance I'll go over the 7 days depending on when I hear back from Jerry. I asked the vendor for a 3 day extension on the return policy, but their response was that they'd take 25% off.

I don't need a discount. I need the right stone, so I'm just crossing my fingers that Jerry says he can work his magic with the stone. To be continued.....