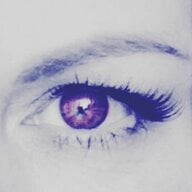 Joined

Dec 30, 2006
Messages

12,586
Date: 4/13/2009 8:42:28 AM
Author: Addy
I find it really hard to think through exactly what I want. On PS we see so many stones of all sizes and colours and have access to some great jewellers. On our hands rings look different and lots of times we can''t see the rings on our hands until we buy them. I''ve said on here many times that had I known what I know now I wouldn''t have choosen my original engagement ring. We had a limited budget and size was my primany concern. I''ve since discovered that size and finger coverage aren''t the same thing. What I was actually looking for was finger coverage. And I found it in a smaller stone.

You want big, fair enough. I think it''s really easy to want to upgrade when you aren''t able to try on something and it doesn''t look quite how you want it to on you. Are you actually experiencing DSS or just not quite getting the look you were aimming for in the first place?
Its true, there are many gorgeous rings on PS. And the fact that we can have them made for us is even better. Here in the UK we just don''t have that do we? We just go to the high street and buy whatever is available. We are definitely spoilt by being able to buy from the US.
I think you are right, maybe I just expected it to look bigger than it does. I do have large fingers. I know what I want and I guess I will stop when I achieve it.