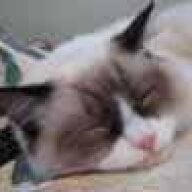 Joined

May 9, 2004
Messages

5,609
Maisie, I almost didn''t even open up this thread because I don''t think of my diamond (2.36 RB) as "big"! But then I saw that you are asking about 2 carats and up!!! So, see, I am already acknowledging that I am sick, sick, sick!!!



Honestly, to me, no... my diamond does not look BIG.



To my friends and co-workers (and even strangers, at times) it must look big, though, or else they are all lying to me!!!

However, I love it, and I know it is a beautiful stone... but yes, I have DSS and I probably always will. I would LOVE to have a 3.5+ ''er, (and I think it would have to be at least that size for me to SEE IT as "big"!) but honestly, THATJUSTAIN''TEVERGONNAHAPPEN!!! The cost would be CRAZEE and just not affordable for us. The reality is that we are just normal, middle class working people, and there are just too many other places we need to put our money... and I am, believe it or not, a practical girl!
So what do I do? I tuck that UPGRADE dream away in the back of my mind and enjoy my stone... and 99% of the time I feel totally content and happy with what I have. I truly believe this is my FOREVER stone... and I am fine with that. I realize I am lucky and blessed and I am grateful and appreciative for what I have. And even my own sick mind

REALIZES that an AGS-0 2.36 diamond is nothing to sneeze at!!!

Now, I will say that I do toy with the idea of one day changing the setting... hmmmm.... a Leon three stone perhaps with my (.75 each) studs maybe????!!



But even THAT isn''t in the foreseeable future. I still ADORE my fishtail pave set from
WF
and it ain''t going anywhere anytime SOON, let me tell you!!!