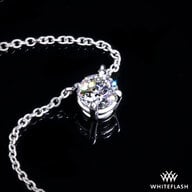 Joined

Sep 14, 2020
Messages

105
I've been a lurking on here for the last few months and have learned so much from all of you - this is truly a terrific community and am so glad I discovered it. So here's the situation: I'm closing in on purchasing a MRB diamond to propose to my longtime girlfriend. It's been a particularly tough year for her as she's been on the front lines fighting the pandemic, so I'm hoping to get some help finding the absolute best diamond I can for her, within my budget. All in, I'd like to stay around $15K including the setting, but there is some flexibility if "the perfect" diamond is a hair more than my stated budget. It will be set in a classic platinum Tiffany style six prong.
With Covid, we haven't had an opportunity to look at diamonds in person together, and at this point if we were to, it would probably tip my hand that I'm planning to propose soon. She's told me that she'd like to be between 1.5-2ct and does not want the diamond to be "yellow." I do not believe she is extremely color sensitive - she has a 0.4ct I
ACA
pendant (avatar photo) and loves it and doesn't see any warmth at all. I think something in the G-I range will be plenty white for us, as long as it's a sparkle bomb! She's pretty sentimental so I don't imagine her taking full advantage of the upgrade program, but I could see us using it for an anniversary upgrade down the road. Eye clean from 6" is preferred, otherwise
HPD
/
WF
definition is completely fine.
I'm considering a few options and was hoping you all could weigh in - do any of these stand out to you for a particular reason, and if so, what is that reason? I'm open to other diamonds as well so if you discover something that may be better, but inventory in this range seems to be pretty limited right now.
WF
ACA
1.588 H VS2 -
https://www.whiteflash.com/loose-diamonds/round-cut-loose-diamond-3738893.htm
- H/VS2 seems like it would be a sweet spot, but doesn't leave a lot of room for the setting and the size is on the lower end.
WF
ACA
1.691 I VS2 -
https://www.whiteflash.com/loose-diamonds/round-cut-loose-diamond-4356728.htm
- At this size, I don't
think
the warmth will be too noticeable, especially in a six prong setting, but interested in your feedback. Good size, VS2 clarity, eye clean and the price seems really competitive especially when compared to the I stone below with worse clarity...
WF
ACA
1.702 I SI1 -
https://www.whiteflash.com/loose-diamonds/round-cut-loose-diamond-4059382.htm
- Good size, hopefully the tint wouldn't be too noticeable. SI clarity but $1,500 more expensive than the 1.691 VS2 above...can't really explain why so if anyone can educate me, I'd be interested to know why!
HPD
1.68 H SI1 -
https://www.hpdiamonds.com/en-us/diamonddetail/HPD10812
- Good size, H color. Don't love the dark inclusion on the table but I trust it is eye clean and would be a top performer nonetheless.
WF
also has two other 1.6ct H's but they seem to be reserved right now. Imagine those will be purchased in the next two days. Both
HPD
and
WF
also have some J's in the 1.8ct range that would fit my budget...but I'm afraid they may be a little too warm for an ER.
Any and all thoughts/comments welcome. Thank you for your help!