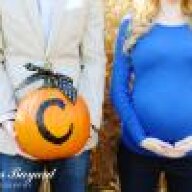 Joined

Feb 18, 2008
Messages

1,580
lilang chi- Chase has good poops.. he isnt constipated.. He only gets breastmilk from a bottle. I burp him halfway thru the bottle and afterwords.. he is a terrible burper though! I have been doing the bicycling with him so ill try the other thing...thanks for your suggestions!
Amc-What gas drops did you try? I tried Gripe Water last night.. not sure how much it worked last night though.. I was giving it to him after he ate but then saw your post and gave it to him first and i think it might have worked a little better but it was hard to tell because i was doing so many things at one time and trying to get out of the house.. I am going to try it again for his next few feedings to see if it helps..
Im wondering though if it might be related to my breastmilk because I had a plugged duct which they think is mastisis now.. and the grunting really started sunday night whcih was when it really flared up.. so im wondering if that caused any issues with him to.. OR my MIL got here Saturday and started helping to feed him on Sunday.. and she isnt around babies at all and i had to keep telling her how to do every little thing and she was feeding him his bottle all crazy like he'd eat it in 5 mins.. im like nooooo it needs to take like 15 mins thats way to fast and she'd have him like flat on his back feeding him and she wouldnt put him down to sleep.. so im thinking just all this craziness might have caused some of it... Last night I didnt prop him up in his boppy pillow in his co-sleeper to sleep though...and it seemed to help him feel better.. he didnt grunt nearly as much... hoping tonight it better and he can sleep on his back!!
thanks for all the help ladies!!

Anyone have any tips/advice on mastisis? They gave me Keflex to take for 10 days and told me not to breastfeed.. to pump and dump... umm i understand no breastfeeding because my boob has this crazy rash/blister thing going on and my nipples are bleeding but pumping and dumping??? We cant see why she said to pump and dump... Any ideas?