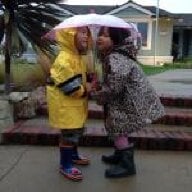 Joined

Nov 14, 2004
Messages

3,876
I think I mentioned in the original mommies thread, but M got three new teeth. Two more on top and one more on the bottom, so she has 7 teeth total now. She is becoming more and more playful nowaday, and it's really fun. She loves "walking" with us holding her by her armpits. She can pull herself up on certain things, like the ottoman in her room. She can also now move sideway holding the stair rails. I got the walking wing for her, so we didn't have to bend over to hold her. I tried it, but I am not sure if I like it yet. I'll have to try it again b/c it's either that or a tired back.

I also gave her some small pieces of meat from our dinner last night. She did great. No gagging or anything. I definitely need to give her more table food now.


MustangGal
Welcome to the newborn mommy thread. Kyle is so precious, so alert at 12 hours old. Would love a current pic if you have one.
Wow you had a tough recovery. Glad you two are fine now.
Love the name Kyle. It's one of my boy names.
How had the last 3 months of motherhood for you? It's tough when you are a working mom.
Yay for K rolling over tummy to back. He will roll the other way in no time.

Diva
That's nice that you get to spend an extra hour with James in the am. That's one thing that I wish I can do - spending time in the am with M. But it's either spending time in the am or getting home early to spend time in evening. I chose the latter mainly b/c it would be harder for me to leave her in the am after playing with her. Your schedule now is perfect though since you get to do both.
James is such a handsome boy.
Is he crawling everywhere now?

puffy
Don't worry. I do plan to meet up with snlee again, if she is ok with it. We can meet you next time.

janine
How funny Chloe grab the cookie instead. That girl knows what she wants. She'll put the puffs in her mouth soon enough. Remember when I posted about M not feeding herself the puffs. Ended up taking her only a couple days before doing it. So just keep offering them to her. I had ate my share of puffs too. Partly b/c I taste them before giving them to M.

Blen
You can try different paci. M was spitting the paci out at that age. She wouldn't take any brands, not even the soothie.
Sorry you have to deal with those teenage girls. I never had a problem with crying babies, well except when the parents bring their newborn to the movies. They'll know better when they do have babies of their own.
G is getting big.

DD
Awww cute collage of Hunter. I am so sad that you won't post pics of him anymore. He is such a cutie.
Yay for STTN for 9.5 hours. Yeah good naps definitely lead to good night sleep. It's a mistake when parents are adviced to keep the babies up during the day so they can STTN. So FALSE.
Congrats on the upgrade. I was thinking of an upgrade on our 5th anniversary, but that's not happening.

Fiery
I don't think a crib is necessary in the beginning since you have the co-sleeper. When you actually need one depends on when you want to transition the baby to the crib. We had M in her crib since day 1, so it was necessary for us.