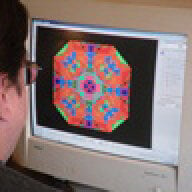 Joined

Aug 4, 2008
Messages

9,121
With a shallow 34 crown and shallow 40.6 pavilion I would anticipate you'd also have shallow depth.

My guess is these factors played together to create obstruction which made the stone look darker.
All depends on whats in the averages and the lowers.
But for any given distance a true 40.6 pavilion reacts to obstruction more than a true 40.8 pavilion and a 34 crown will showcase that a bit.
The difference is not night and day, its subtle.
Lower % number lowers also show obstruction more because they are bigger.
Without more info and viewing them side by side in the same conditions it is hard to say anything that is not just a wild guess.