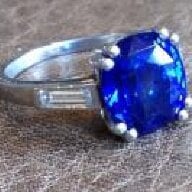 Joined

May 15, 2013
Messages

10,535
the fairytale of the blue-green Afghan Tourmaline lady
This afternoon I collected my new ring by Victor
Canera
with a blue-green Afghan tourmaline by
Gene from Precision Gem. I am so absolutely
happy with the outcome. Both stone and
setting are more beautiful than I could imagine.
I found the stone because of Sparklieslover's
journey: she had an absolutely beautiful stone
cut by the amazing Gene Flanigan from Precision
Gem. I took the plunge and called Gene to ask
whether he had more rough. Long story short:
he cut me an amazing stone. The rough had a
chubby cushion shape and I imagined it in the
Trueste setting by Victor. The tourmaline
came out more elongated and much heavier
and I loved it immediately. The color is a lovely
bluish green and it's very well cut.
I was the totally lost on which setting to choose
and discussed several options with the always
very patient Victor via email. Victor totally came
to the rescue and suggested the vintage inspired
tri-wire shank with diamond cuffs. I loved the ring
when I saw Victor's photo's and love it even more
now that I have the ring on my finger. The ring
has such elegant proportions and fluid lines!!
The diamonds cuffs are so delicate in real life
with the sparkly single cut diamonds. Victor made
the ring in an astonishing timeframe by the way.
Thank you Victor for again creating a stunning ring.
I enjoyed the process and love the outcome. I love
how you can read my mind.
Thank you Gene for an amazing stone! Your customer
service is outstanding. I appreciate that you were
willing to cut the stone in a busy period (around
Thanksgiving) just before you left for Germany for
a few weeks.
Thank you Sparklieslover, Ricezo, DK and other very
helpful PSers for your guidance and advice during this
process.
On to the photo's... First the glamour shots from VC: