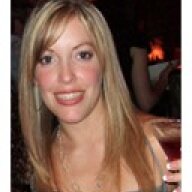 Joined

Nov 2, 2006
Messages

125
Hey everyone, so I have my ring at hold at the jeweler Michael Mindien. I do love it but of course, secretly want a bigger center stone than my 1.21 princess cut. Soooo..my friend has a jeweler broker friend. She has a HUGGGEEEE ring that her BF got her from him. I think it is 5 carats maybe? Anyways, I do not know the details of her princess cut but I will just say that all of the cocktail waitresses at my casino are envious..I think they got it for $25,000 or something like that. I have looked at the stone and it is gorgeous! (but WAY too big for this 5'0 tiny girl!)
Soooo..I wanted to use my jeweler because I will get an upgrade credit of $3700 when I spend double that. I am thinking that my setting, with a custom matching wedding band (the same setting but with more diamonds to fill in the gap of where the center stone is) would be close to that..but a little less. HMMMMM???
I just called and the center stone at MIchael Minden is $7300 EGL certified..the total of the ring is $9500. Link to the specs...
https://www.pricescope.com/community/threads/the-specs-of-the-1-21-princess-cut-just-called.53292/
=
Oh man, am I being greedy? I do love my ring, but if I can get a larger stone from a broker for the same price, why not? But..I don't think I will be able to spend $7400 on a setting, a wedding band, and a men's wedding band.
Suggestions?