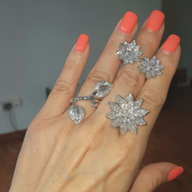 Joined

Oct 5, 2006
Messages

9,847
Hi folks,
As some of you may know, I have 3.444cttw ACA martini studs, which I love for the size and the sparkle.
However, the size is a tiny bit too small for me (I know, I am a greedy girl, what can I say?!


) and the colour a tiny bit too warm for *me* given that all my other diamonds are in the D-H categories (most are in the E-F range). Surprisingly, everyone else thinks they're a much higher colour once I've put them on. I guess once they're on my ears, it's hard to tell the colour.
For months, I though I'd upgrade to a J or I colour. Now, I am thinking I may go a bit larger, say 2.2ct each (or 4.4-4.5cttw) and keep the colour at K (hey, if no-one else can tell they're K, why should I be bothered, right? Surely, size is KING (well, after CUT)). I also thought I'd only upgrade in a couple of years' time, one the economy gets better and we have a bit more money to spend.
However, we're moving up to Shanghai and I can't see how we could get WF to post upgraded studs to us once we're there nor would we be able to send back my existing ACA's to them (too risky) for at least another five years (that's how long his contract is) or maybe even never (since we may decide to stay there and not move back to SG). So, I thought I might bite the bullet and persuade hubby to let me spend the $$$ to upgrade now. Naturally, he'd want to spend less rather than more on this upgaded project. I'm not allowed to upgrade on both colour and size, only one or the other.