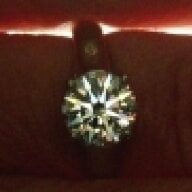 Joined

Jan 13, 2006
Messages

24,431
I would like to preface this post by saying that this is not to debate the labs. That has been done ad nauseum. It is simply to show why a perfectly good stone was sent to GIA and not AGS, which was prompted by yet another recent thread on which lab was preferred, and the comments that followed.
When I bought my diamond online a little over a year ago, the last thing I was worried about was that GIA graded it. I had tried to do my homework, and knew that the numbers and IS image were what was going to tell me if the stone was a good pick or not. I found one, and everything looked great. I did not find out until later that it was an Isee2. Bonus! (just an FYI, they are one of a handful that cut an extremely tight diamond, and the light return has been said to be some of the best by a well respected expert on here)
After receiving it, I was blown away. It was stunning. Having briefly owned an AGS Ideal before (not light performance graded, but with very desirable numbers) there was no comparison. This new stone outshined the other by a mile. No pun intended.

So, one
might
imagine my annoyance at owning an extremely well cut, branded diamond, and having to hear it referred to as, "not the creme of the crop, not the richest dessert, a dog, a Ford" etc., simply because it had a GIA grading report. I wondered to myself, how can these negative comments (read speculation) constantly be made? How can these people possibly KNOW why each and every stone doesn't get to AGS. I believed they didn't, to a certain extent. So by the last thread, I decided to do something, instead of "speculating" as to why my diamond wasn't sent to AGS. I decided to contact Isee2 and actually ask them why.
The reason is amazingly simple, and not the one that is constantly given around here. In the beginning Isee2 sent their stones to AGS, but the retailers in the Asian market did not recognize AGS very well, and asked Isee2 to send them to GIA, which was more readily recognized. Isee2 then started sending stones to GIA. Since then, AGS is becoming better recognized there.
That's it. It's not because it couldn't make the grade. It's not because it's "a dog, not the richest dessert, not the creme of the crop" and it's certainly not "akin to a Ford".

What it is, is a truly stunning stone that happened to be graded by GIA. I'm certain it's not the only one. And I believe there may be other legitimate reasons out there. I hope people reading this who may be searching for a stone will heed this post, otherwise, you may be passing up some outstanding diamonds.
In conclusion, I hope this post serves a second, and more important purpose. That is, to prompt posters to pause before speculating or making blanket statements about GIA stones. Ones I might add, that may very well insult many other posters on here.