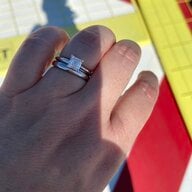 Joined

Dec 20, 2006
Messages

285
Hi Pricescopers!
I have my heart set on a Tiffany Etoile solitaire ring, around .30 carats, I VS2 would be fine, in platinum. And I wear a size 5.5. I called Tiffany yesterday and was told that they don't have any Etoile solitaires at all anywhere in their system, but they may be able to re-set a diamond into that setting for me. They'll get back to me next week. (I was also told they're retiring that style and the bezet solitaire, in case anyone is interested.)
In the meanwhile, I thought I would look around for a secondhand one from a reputable dealer online. I saw one on eBay that was a maybe, but it looked a little beat up around the semi-bezel and that worried me a little... (I know the metal could be polished, but I was scared the diamond may have been knocked too.) Nothing else I saw on eBay rocked my socks... Plus, I think I would rather buy from a jeweler if possible.
Anyway, since you all know EVERYTHING, I thought maybe you could help!

Budget is less than $3,000... And I definitely want the Tiffany brand. (I know, I know!)
Thanks in advance!