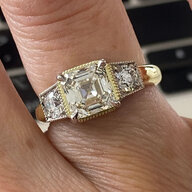 Joined

Jun 25, 2019
Messages

177
I'm sorry to hear of your sitaution. This is one of the reasons why I chose to buy my own new rings this year. Our lives are stressful as it is and I didn't need my husband stressing about getting the right stone or ring, and I didn't want to compromise my style/taste to save his feelings.

As some others have said, I think you had the most beautiful intention at a terrible time. I think once everything is good in your world again, have a chat with WF. My suggestion would be to have the stone sent to you and work on a setting back in the UK together with your wife when you're ready. If prices are anything like in Australia, it may seem cheaper to get the setting done in the US but it's not worth the to-ing and fro-ing. The band on my first ring from JA is much thinner than I anticipated but then again, I didn't pay much attention to the dimensions provided. I just wanted to get on with the purchase.

I'm looking forward to a WF purchase one day and I know they do have a good reputation so I hope you reach a positive conclusions with them.