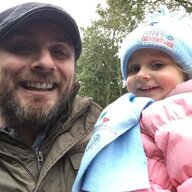 Joined

Apr 30, 2018
Messages

15
Thanks for reading my story…. Late last year I bought a replacement engagement ring for my beautiful wife, as very sadly the original one had been lost. After a lot of research, I settled on a lovely ring and setting from Whiteflash. I live in the UK so I was a little concerned about buying from abroad but I was reassured by their website and sales staff, so went ahead an made the purchase.

Unfortunately, I had problems from the outset with the setting. Originally, I asked for the setting to be semi-customised to compliment her wedding ring.

However, it arrived much narrower that we had been expecting. Whiteflash to their credit were very good about this, and we decided to return it and go for the stock setting. This was in part as it was my intention to buy a diamond band and I felt these would go well together.

When it arrived it was indeed thicker, but nowhere near what the description on the website was suggesting.

I again reached out a couple of times to both my consultant and the after sales team, but did not make any definitive progress.

As our stone was quite modest (and as I was wondering if I might get a better service if I had bought a larger stone) I decided to upgrade to a new stone but with the same stock setting previous requested, which with hindsight may not have been the right decision.

When this one arrived, it was again narrower than advertised and a circle imprint now existed on the basket.

At this point I lost a little faith and energy for the ring and the purchase. My wife was going through a period of ill health (she is doing well now thankfully), and stupidly I thought the issues might subside in our minds and the ring would become something she would treasure and wear.

Sadly, that didn't happen, and she finally confessed about how upsetting she found it all. What had started as a loving thing had become a bit of a sore point for both of us.

I really need some advice on what to do next… I know I am outside of the returns period. I choose Whiteflash as their service, feedback and products were all excellent. Indeed, the service I had early on was great too, it just didn't stay that way.

I very much feel in limbo with things now, I have a ring that isn't being worn and a wife desperately unhappy with how this has unfolded. I have to say that I feel the same way too, arguably more so as it is my fault.

I really want to look into upgrading the diamond, and would love to get the simple clean stock setting to place it in, so that we can feel like with we have a brand-new beautiful ring. But I have lost a bit of trust in the company, and am unsure on how best to reach out to them.

Has anyone out there had similar experiences they can share, or is there anyone who knows how best to take this forward? Any suggestions would be very gratefully received.

I would dearly love to have some good news to tell her for Christmas, or the New Year.

Thank you, Chris.