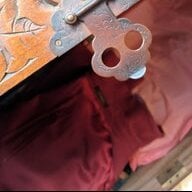 Joined

Oct 8, 2011
Messages

662
Re: PLEASE HELP! First Tahitian Necklace - color, size, leng
ennui|1454076696|3983517 said:

I'm a little confused when some of our Asian ladies say that goldens don't work for them, because I have read jewelry trade articles that say Golden South Sea pearls sell best in China, where the goldens complement their skin tones.

Okay, I'm a lot confused.
Think the intense gold do look nice on fair skin. And Chinese from the northern region seems lighter in skin tone in general. Plus gold color is symbolic of wealth so maybe that is appealing? I actually like how gold jewelry look on me but somehow golden pearls just doesn't work.