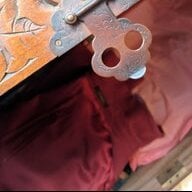 Joined

Oct 8, 2011
Messages

662
Hi all

It is me again needing help on my first big tahitian purchase. PP sent photos of 4 strands so I can decide on the color but now am completely overwhelmed with information. All strands look beautiful on photos (from the high luster) and I actually cannot distinguish the colors. I don't know what to do next. Here are some areas I am unsure about:

Size: 8-10mm look small. Would bigger ones, say 10-12 be too much on a size 4/6 person? With rounds I would want biggest possible. Is it same with drops? Gradual or consistent size pearls?

Length: what is the standard? I would like to be able to wear it with jeans, casually glam look is what i am after.

Color: biggest biggest biggest dilema. I like how green body pops on my skin - -pretty certain that a green strand would look amazing. But then the peacock overtones and cherries are why I even considered tahitians in first place. Can you see the overtones without studio lightings?

I know everyone may have different flavors and beautiful is subjective. But I am one confused consumer who needs to be told what to do. HELP!