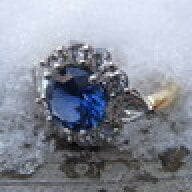 Joined

Nov 4, 2007
Messages

3,336
Hi everybody.
I'd love for you to come to a party to celebrate the slaying of the Monster in my brain!!
(old thread below - beware, there's a lot of wallowing, whining, and pity-partying going on) - I'm going to have it un-stickey-d soon to make room for people who really need support. As I think this girl's outta the woods! woo hooo
https://www.pricescope.com/community/threads/lostsapphire-sending-out-love-dust-prayers-and-support-to-you.101315/
I am ready to say that the monster (and his evil twin) is now WELL AND TRULY DEAD!!!
Can we have the emotie-fest now????
Let's start with cake:

YAY YAY YAY YAY YAY









Catherine (LostSapphire)