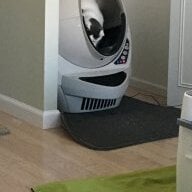 Joined

Jul 27, 2011
Messages

6,477
I'm curious about the horse head diamond (never knew it existed, you learn something new everyday). Is it a naturally occurring shape or is it shaped that way? Does it sparkle? It looks awesome!
@Rockdiamond
- I'm assuming the rough can't be too far off for them to cut it like a horse head?
It DOES sparkle which is why it's hard to tell it's a horse head in real life bc the light return is like blingy. It looks the most horsey in a static moment like in a 2d picture, if that makes sense. But once you know what you're seeing you SEE it.