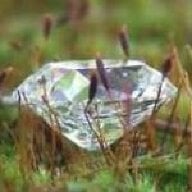 Joined

Jun 29, 2006
Messages

11,071
Date: 3/27/2007 9:34:10 PM
Author: thing2of2

I liked the original swoopy one, too...but I totally know what you mean about needing a bigger diamond so it doesn''t get overwhelmed...I know your diamond is no slouch, but sometimes it seems like the super intricate designs need a HUGE diamond to not get lost in all the details.

I know how hard it is to pick a custom setting...it''s almost too much freedom!
even buying stock these days is overwhelming LOL
You know though, I think those swoopy intricate designs are something you love or don''t love *regardless* of how big your diamond is.... because I worry about mine getting lost and it isn''t exactly small. I think any sized diamond is going to look good in those settings. Unless you''re looking for a different look in which case it doesn''t matter how big the diamond is.
Early on when I was looking for settings I took my diamond all over and several people from different places all wanted to put it into a 9mm setting. I see their reasoning... they''re usually putting a 6mm round in these settings and for once they see this big diamond that they think is going to NOT get lost and you know? it still gets lost!! It is like 9mm x 18mm of glitter and it is hard to see where one bit starts and another stops LOL Colored stones work well in these settings because they stand out against it... but sometimes smaller stones look BETTER because they look like a balanced part of the design.
Ultimately it''s all just a matter of personal taste.