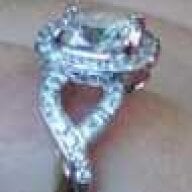 Joined

Feb 18, 2007
Messages

1,052
Yes, I am at it again! My intention is for this to be the last image I will need for me to make my final decision. Mark at ERD said he was ready whenver I was...and I''m not...not yet, anyway. So, if any Photoshoppers out there have the time would you please show me what this setting would look like with:

platinum color

cushion halo with the cushion stone prong set instead of the bezel setting

I don''t want the split shank to be a heart shape, which is how it looks with the points of the princess halo extending into the open space in the split shank.The cushion halo would remove those points and the shank would simply meet the side of the cushion halo--does that make sense?

Here''s my main problem. I wanted to remove the milgrain on the band and halo for a more delicate look, but I think that is what gives it the pretty swoopy design. How can I keep this split shank design but make it more delicate? I like the swoopy "tail" at the bottom of side design.

Anyone have time to create this new image for me? I have tried in Powerpoint and either the functionality isn''t there or I simply don''t know all the powers of Powerpoint to make it work for me. It was awful!

Thank you!