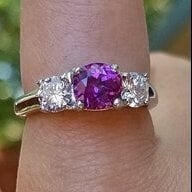 Joined

Sep 11, 2013
Messages

1,022
Oh gosh - the other one landed on my doorstep this AM - huge surprise! Last status update was that it was still stuck in Memphis!

It is absolutely beautiful - where the bigger pink stone is whimsical and magical, this one is ethereal and ultra feminine - it has a gorgeous, delicate sparkle, and a soft lilac/baby pink color. It is soft and delicate. The window is obvious, but the color is just gorgeous, so I don't care.

Oooooh I love them both!!!!

It'll be a while before I can afford to set either - if you have read my other threads we've had a recent pet emergency that set us back a pretty penny. BUT - I can enjoy and admire my beautiful new stones for months while I wait!

Here are some pictures!!!!
So glad you decided to buy both. They look amazing and completely unique from one another. Congrats on your two new shinies!