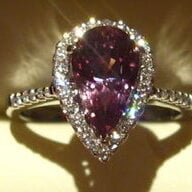 Joined

Jun 29, 2008
Messages

10,224
Any excuse for an eye candy thread!!!! It''s a dull grey day with the kids running around like maniacs so thought it would be a good opportunity to get the camera out .............

I went through a "chase the ultimate neon-glowing Tourmaline" phase and thought you might like to see the result! All classified as Paraiba Tourmaline (some Brazilian, some from Mozambique).

Tons of pictures to load so bear with me!

First up ........... this is the one that started it all. Highly highly highly included but the colour grabbed me. I''d never seen a stone glow before (this was several years ago I hasten to add).