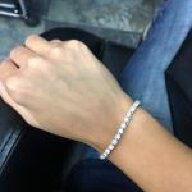 Joined

Sep 28, 2015
Messages

42
Hi all,
So I have a 10k budget for a necklace (it's a wedding gift), I've been trying to come up with designs for a few weeks, I'd like to get your opinions on it.
I'd like it to be wearable in every day life, so a minimalist modern design, ~16", and not a solitaire (is too simple for my taste). I've been thinking of getting a three diamond bar made, with 0.7ct stones, or a 5 stone with 0.5ct ones. Something like these (I'm not stealing the design, I looked for a long time to find these pictures online after I thought of the design on my own):
Three stone:
http://lindblomjewelers.com/products/necklaces/diamond-bar-necklace/
Five stone:
https://s-media-cache-ak0.pinimg.com/originals/94/5e/a7/945ea72aff4a4931910a40952ff06e1a.jpg
What do you guys think? Any cons you can think of, in terms of practicality, etc? I'm pretty new to jewelry so would appreciate your input. Also if you have other ideas I'd love to hear.
Also, in case you know, how much should I expect my jeweler to charge for the chain/setting in white gold?
Thanks a lot!