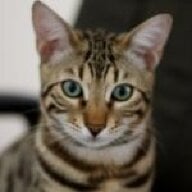 Joined

Jun 4, 2008
Messages

6,893
So I just bid and won that 8x8 LOGR halo - pic attached.
I initially wanted this setting for my JW blue tourmaline but the setting is too big for it - the tourmaline is 6.6 mm. I really don''t want to customize the setting because then it gets super expensive. On the other hand, I have a 7.9 mm pink tourmaline that would fit - but it''s a little dark. So I have some questions:
1) If I got the 8x8 as it is, would my jeweler be able to make the 6.6 mm blue tourmaline work, or is it just impossible because the size difference is too great? I heard that it''s better for the bezel setting to be bigger than smaller but this might be too big.
2) If the 6.6 won''t work, then I''m considering the pink tourmaline. So do you think it''s too dark for the bezel?
3) And as for the pink tourmaline, if I go with that, I''m considering asking him to make the halo part rose gold and the shank white gold. What do you think? Yay or nay?
Thanks everyone!