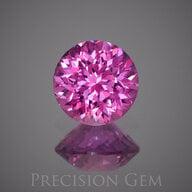 Joined

Jul 27, 2004
Messages

1,953
This pricing makes no note of color quality.

Location/origin plays a factor in pricing as well.

ETA: color quality IS listed per GIA gemset, and that is a huge factor. My apologies for missing it .
Most guides, including this one, only include a premium for Burma. I assumed it wasn't from Burma.
"The Guide" has prices for non origin specific, Burma and Mozambique.
Glass filled ruby that size would be about $50 to $100 per ct.
Ruby are tricky, slight difference in color and be big changes in price.