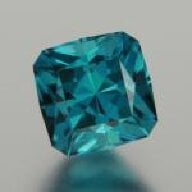 Joined

Jan 18, 2008
Messages

9,758
Ok,
so this poll is following on from the discussion about GOG''s new signature OEC diamonds in this thread -
link
.
Here also is a link to the GOG video of these new diamonds for those who have not seen it
OEC video
Basically, the question at hand is whether people prefer to have the kozibe effect present in these newly cut OEC''s or not. I will also include questions about the GOG new signature cushions - which will be referred to in the poll at OMC''s.
For those that are not sure about what kozibe is, I will post a number of photo examples below

I''m sorry I don''t have a technical explanation, but basically it is when a diamond has an open culet (medium to large I believe), which reflects throughout the stone, creating an effect which looks like a bunch of tiny circles in the outer facets.
From my experience reading on this site, I have found posters opinions on kozibe often divided - either you love it or hate it.
From my discussion with Jon at GOG, depending on client preference and feedback, he will decide to order the new Signature OEC''s to be cut either with or without a kozibe effect. The current ones in the video have no culet - hence no kozibe.
My hope is that this poll will assist in that decision.

I''ve tried to think through the poll questions - hopefully it covers all the options..

if you vote (or even if you don''t), a comment explaining your choice is always appreciated!
thankyou!