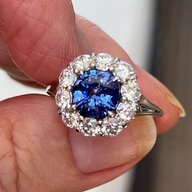 Joined

Aug 18, 2013
Messages

9,195
@Tourmaline
- it's absolutely stunning! Congratulations on this amazing gem!
I'm sure you can see imperfections with the setting that we can't, but from where we sit, it looks like a wonderful setting! Would you mind very much sharing some profile shots of the setting? I love the more substantial band - would you be willing to share how many mm's wide it is at the head? It seems more substantial than a normal tapered band, but not heavy, either - and I'm really struggling hitting that balance with my new diamond. My new stone isn't as large as yours, but I'd love to know the ratio, so I can figure out what it is that appeals to my eye.
Anyway - those broad flashes of color are just amazing! I was sitting with my DH when I first saw your new thread, and he leaned over my shoulder and said "What sort of stone is that?" I think most people are unaware of the magical color attraction properties of a good OEC!
Congratulations on this holy grail - it's incredible!