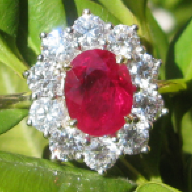 Joined

Aug 15, 2004
Messages

5,537
Here is my Christmas present from the hubby. This is a 1.04 oec stone that I acquired last spring from a private seller on ebay. It was in the ugliest mounting I''d ever seen, complicated by the fact that I don''t think it had been cleaned since 1975! But I took a chance based on what I could see of the cut, and found this beauty! Unfortunately, I ended up selling it last summer to help reroof our house.
Well, at the beginning of December a big hail storm hit our neighborhood and homeowners'' insurance ended up totalling out about two dozen roofs, our new one included. This meant we had quite a bit of unanticipated cash for the holiday. At the same time the current owner listed this ring for sale. Hubby and I came together and the stone came home.
The new mounting is very attractive, but I don''t think it shows the color or the cut of the stone to its best advantage so I have a long term goal of remounting this little beauty. It measures just over 6mm, is slightly cushion shaped, and in many lights a very pretty light yellow color. I''d like to maximize all of that.
I had started a thread a couple of weeks ago about this but it was before I had the diamond on my own hand. I though I''d share pictures and generate some new thoughts.