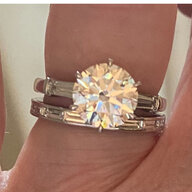 Joined

Mar 31, 2018
Messages

10,344
@missy
I hope your back gets better today. It doesn't take much for mine to go out..Aging is better than the alternative..hahaha
Hubby is good. I should say no more dizziness..We had a flood in our storage room so he was in there carrying out stuff and cleaning up all day Tuesday starting during the night on Monday. He will be 70 on Saturday..He's very sore. He married a baby...I'm 67..
Thanks for asking.
Your ice cream looks so delicious. I put on major pandemic weight so I haven't been having ice cream. I decided I would have one scoop a week. It's not much in that cup...sigh..
@canuk-gal
I smiled when I read you "piled on the pearls" to go out for lunch..I completely understand! I went to my first store yesterday..Hallmark! Hahaha I needed a card for my son and daughter-in-law's anniversary. I've been buying cards on Amazon..but the anniversary ones stunk. I kept telling David I was excited to be in the store. Even David understood I had lost it and was crazy. Hahaha I'm dying to go to Homegoods. I plan to pile on my jewelry and fill up my cart with stuff I don't need. Then true to form I'll put stuff back before I checkout just buying a few items..It's the experience...