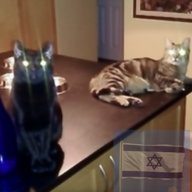 Joined

Jun 8, 2008
Messages

46,368
GM girls.
@marcy
yay for being done with your appraisals and double Yay for your new iPad. I forgot to mention it but Greg got a new apple laptop and also sent his current one it to Apple to get fixed and he got them both and loves the new one very much and is quite pleased that the old one was fixed to perfection. Apple makes a quality product even though yes they do need to be fixed every now and then for sure. Anyway hope you love your new iPad and that work is going well. Hope lifting went well. Today I do weights. Which doubles my pre cycling workout. I am tired thinking about all I need to do this AM before we go cycling lol. Have a good day and woohoo long weekend coming up...I bet you are looking forward to that Marcy. Thanks for all your good wishes and I wish I could share my ice cream with you.
@Austina
how did your hair cut and color go yesterday? Thanks for your kind wishes. Still haven't heard from my gynecologist but I am not in a rush to do anything about it at the moment. I am doing BHRT (for my bones as I never had any post menopausal symptoms) so yes I believe it is associated with that. Hope you are having a good morning.
@springerspaniel
any holiday weekend plans?
@MamaBee
how is S doing? How are you doing? And how is David? Hugs to you and lots of healing dust to S. How is your momma? Update us please.
@mrs-b
ugh it is always multiple somethings. I am keeping you and David in my thoughts. Please tell me your favorite ice cream flavors.
@bling_dream19
any holiday plans? How is your mom doing? Hope work is calm and going smoothly.
@Slick1
hope you have fun plans for the holiday weekend.
@junebug17
hope you have a lovely holiday weekend filled with family and fun.
@Polabowla
how are things going? Keeping you and your family in my thoughts.
@sarahb
I hope you and your family enjoy a lovely holiday weekend. Sending you lots of love.
@canuk-gal
hope your family is doing well and that work is going well and is calm and have a wonderful day.
Upsetting update. Snowflake showed up yesterday in bad shape but he wouldn't go in the trap. I am very upset and called my sister asking if we could get a tranquilizer gun to try capturing him that way. But apparently that is impossible. If we cannot trap him and bring him to the vet he will die and he is proving impossible to trap. He is only coming every 3-4 days or so and refuses to go into the trap. We cannot grab him as he is feral and we cannot risk it. But if we cannot get him he dies. I am beside myself as you might imagine and because of this I couldn't eat anything last night. I know that is bad for my bone health and well I am doing the best I can. Greg is also quite upset about Snowflake and was looking all over for him after he disappeared. Snowflake is a living being and we don't know how to save him. A tranquilizer gun would work but that is out. Anyway just venting and asking for your good thoughts for our Snowflake. Please let him be OK somehow. Please.
Last night we lost power for a minute but the generator went on and then power came back. So weird. There was thunder and storms last night but we lost power before any real storms. Weird.
We did have a good cycling day yesterday and enjoyed ice cream and hope to do the same today before the bad weather arrives tomorrow through the holiday weekend including Monday.
Wish I could share this with all of you.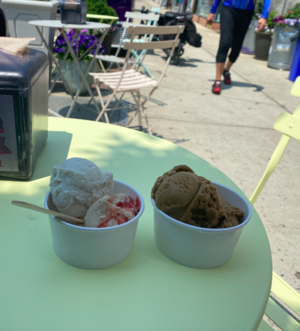 Enjoy a sweet Thursday lovely ladies. XOXO.