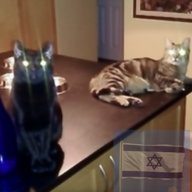 Joined

Jun 8, 2008
Messages

40,895
GM ladies, happy Monday! I missed a day posting here and will try catching up.
Hope everyone had a marvelous weekend. We did. We cycled and enjoyed ice cream both days and all in all it was amazing weather and a wonderful time. Today marks the end of the Jewish New Year and it is the day of atonement. Of course I believe it's what is in our hearts that matter more than what we do for any one day. So for all of the NIRDIs know I care about you and send you lots of well wishes and hugs and all the best for a healthy and happy future filled with love and peace and joy. And lots of bling of course.
@marcy
sounds like you enjoyed a wonderful and productive weekend. Thanks for liking the ketchup suggestion haha. Be careful of Marty. I know you are right and he will seek revenge. I am pleased you are enjoying your new dangles. Nothing beats the romance and beauty of dangles IMO. Glad you did your lifting and got to go out for lunch and hope all your chores are completed. Happy Monday. XOXO.
@Bayek
Happy birthday to Michael Robert! Woohoo! Hope you all had a wonderful celebration! How is Cara doing today? Aww to Auti wanting you to stay longer. She loves you guys so much. You are part of her world. Family. It's a wonderful connection and you guys enjoy a wonderful family indeed. The house is looking good, yay! Thanks for enjoying the topic on VS. Matata wrote something about virtue signaling in another thread that made me start thinking. Most of us do it whether we realize it or not and I think it is a healthy part of the way society works TBH. I have lots of thoughts on that. Glad Luna is doing well. I try not worrying too much about the inclement seasons ahead and how the ferals will fare. We do what we can do but I always want to do more and better for the ferals. In fact now I started feeding a squirrel by Jimmy's place. Suzanna. She is skinny but I am fattening her up for the winter. The biggest issue is that construction is happening in the yard next door to Jimmy's place where Suzanna lives so I am very worried about her nut stash. Greg says there is nothing we can do.
Sorry, didn't meant to be a downer. Just concerned about sweet Suzanna. Seeing her today and feeding her more nuts. Speaking of nuts.
I am nuts about you and about all the animals too. Miss you too and Love you Kate the Great. Hugs!
@bling_dream19
happy Monday! I just saw you got those gorgeous pearl earrings. Swoon! They suit you so well. Dear girl you really wear all your beautiful bling so wonderfully. Hope the rest of your weekend was amazing and you are off to a good start this Monday. Hugs to you!
@Austina
oh no, did you get the water leaking issue fixed? OY I am very sorry and hope it is all OK now or well on the way to being completely taken care of. I love the new hairdo you are getting. Very sassy and saucy and it suits you! Beautiful! How did your call with Shirley go? Hope it went smoothly. (((Hugs))) and good luck with the repairs and your hair.
@canuk-gal
hope you are enjoying more mild weather and cycling too. Have a wonderful Monday. XOXO.
@MamaBee
how was the rest of your Sunday? How are things going? Hope you are able to chat with your DH and explain how you are feeling. It cannot hurt. Hugs to you and to David and your mom and also to Shatzie. A good man is everything and so he is quiet and doesn't express how much he loves all of you. I am sorry about that. But worth it IMO to talk about it despite him not being a talker. I know it's against who he is but I wouldn't give up. And lol yes to more diamonds. Diamonds show the love and adoration without words. For sure. (((Hugs))).
@Slick1
hope you are enjoying the long weekend. Sending you more good wishes and big hugs. Happy Monday and yay for one more day off from work.
Hi to everyone else. We had a good weekend. Cycling, ice cream, wash and repeat haha.
Leaving you with some pics. Hope you enjoy. Have a lovely day girls. XOXO.
I owe you 2 days of ice cream photos. Saturday and Sunday.
Saturday we had PB swirl and Vanilla and PB swirl combo for me.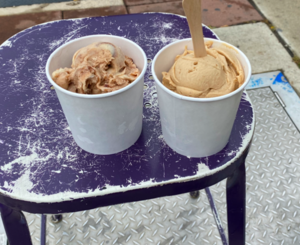 yesterday I had Pumpkin bourbon and oh I tasted that bourbon. YUmmmmm. And Greg had all PB swirl.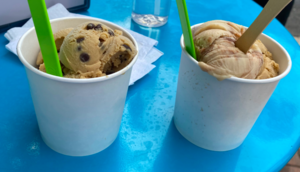 We had some amazing clouds and skies the past 2 days.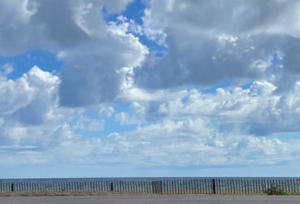 Have a sweet and wonderful Monday lovely ladies. XOXO.